2023 News
OCTOBER 2023
I'm delighted that my poem 'Winter Withdrawal' has been published in the beautiful new 'Shelter/Sanctuary/Sanctum'-themed edition of The Storms Journal, and I'm looking forward to reading at the Zoom launch on Wednesday 25th of October. Tickets for the event are free via the link below, and all are welcome:
https://www.eventbrite.co.uk/e/the-storms-issue-iii-zoom-launch-tickets-733770105137
Purchasing details for the journal can be found here:
https://eatthestorms.com/the-storm-shop/
My latest commissioned poem written as Poet-in-Residence to the Pre-Raphaelite Society has been published in the new edition of the PRS Review. 'IMPRESSIONS OF KEOMI: A TRIPTYCH' responds to three Frederick Sandys paintings for which Keomi Gray posed, and explores the couple's creative and romantic relationship. The Review is attractively produced, with colour images, and is packed with essays, reviews, exhibition news, and so on. For PRS membership details, please visit:
https://www.pre-raphaelitesociety.org/plans-pricing
SEPTEMBER 2023
11th September 2023
And (m)othersongs is… published! I'm thrilled that my new V. Press pamphlet is now officially out in the world. Pre-orders have been sent, and the book is available for sale via the V. Press website, where people can also read a sample poem, as well as endorsements from Polly Atkin and Wendy Pratt:
https://vpresspoetry.blogspot.com/p/mothersongs.html
The book is also available at a 25% discount for members of the Poetry Book Society:
https://www.poetrybooks.co.uk/products/mothersongs-by-sarah-doyle
Overseas purchases might want to order via Waterstones at this link:
https://www.waterstones.com/book/m-othersongs/sarah-doyle/9781739883867
Finally, if anyone would like a signed and dedicated copy of (m)othersongs, please get in touch with me via the Contact page of this website, and I would be glad to oblige.
In other September news, my poem 'A Sailor's Rondel for a Siren' has been published in the 'Witches, Warnings & Widdershins'-themed edition of gorgeously produced Myth and Lore Zine, alongside lots of fabulous images and original writing. The magazine is a lovely object in itself, but in terms of content, it's a must-buy for anyone who loves the mythical or magical. Purchasing details are here:
https://www.mythandlore.co.uk/category/zines
AUGUST 2023
It's a career highlight to see my Dorothy Wordsworth collage poem 'Under Silver How' included in a stunning new anthology, The Book of Tree Poems, edited by Ana McLaughlin, with exquisite illustrations by Sarah Maycock. The poem is taken from my 2021 V. Press pamphlet Something so wild and new in this feeling, and in this new volume it sits within an impressive list of poets, both contemporary and canon, many of whom I admire enormously. More information can be found at this link:
https://www.laurenceking.com/products/the-book-of-tree-poems
A joy to have poems published in two wonderful magazines this month. My poem 'Charybdis' appears in the sea-themed inaugural issue of Needle Poetry, an exciting new venture which specialises in experimental writing. My poem 'On the Union of Cyanometer and Sky' appears in The Alchemy Spoon, an established and popular publication, with this edition focusing on the theme of 'friends'. As ever, I'm grateful to all of the editors involved for their sensitive treatment of my work, and for making valuable contributions to the poetry ecology.
Both of these fine-looking publications can be purchased as print magazines or – for those who want to spend a little less and save paper – as PDFs, via the following links:
https://www.needlepoetry.co.uk/store
https://www.clayhangerpress.co.uk/store/p47/The_Alchemy_Spoon_Issue_10.html#/
https://www.clayhangerpress.co.uk/store/p48/PDF_version_of_Issue_10_-__pdf_download.html#/
As I was longlisted in the 2022 National Poetry Competition, I was asked by the Poetry Society if I would share a poetry prompt in order to help promote the launch of this year's campaign. Of course, I was very glad to oblige; and, with the generous permission of Olive Franklin, I am sharing the Poetry Society's presentation of my prompt below.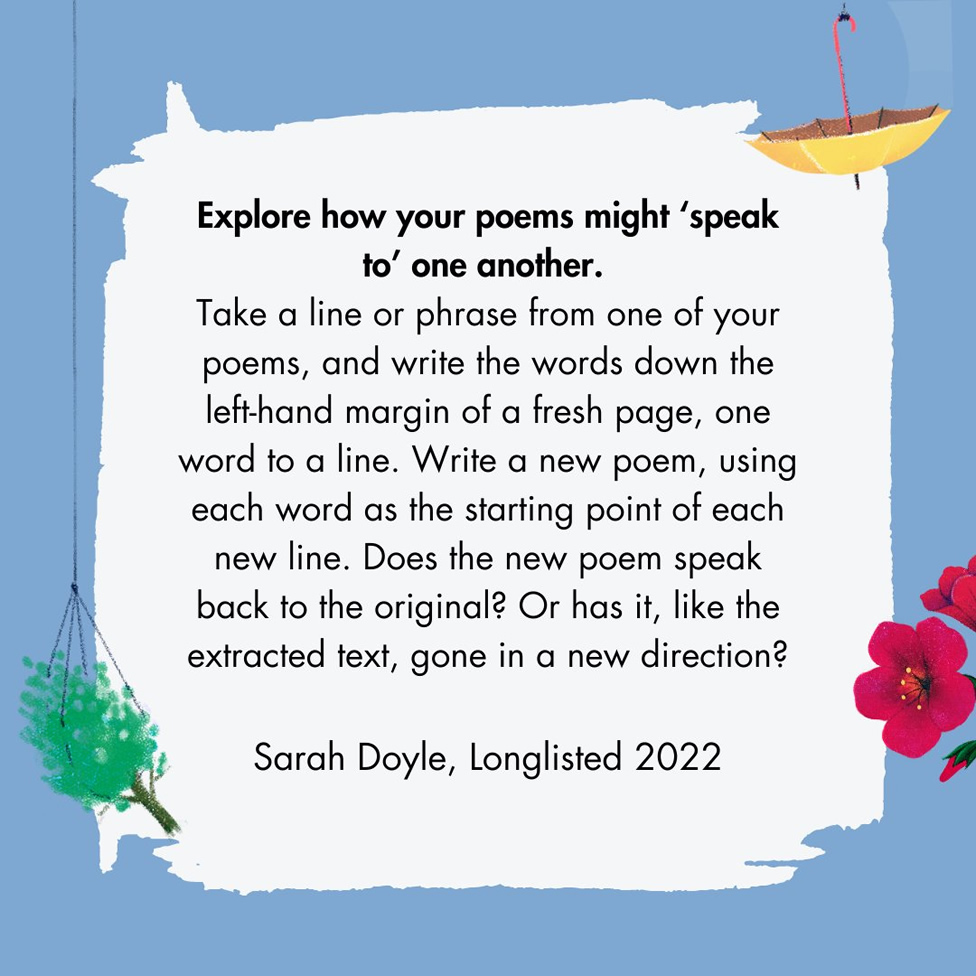 Image reproduced with kind permission of The Poetry Society
Additionally, this was included in a worksheet alongside prompts devised by other NPC-placed poets, which can be downloaded here and used in creative writing workshops:
https://poetrysociety.org.uk/wp-content/uploads/2023/07/NPC_Prompt_1-iv.pdf
JULY 2023
21st July
I'm delighted that my poem 'Sea Gooseberries' has been Highly Commended in the prestigious Ginkgo Prize for Ecopoetry, from thousands entered. I will be reading my poem at the prize-giving ceremony and celebrations, alongside fellow poets and the competition judges. The event takes place in the Purcell Room at Queen Elizabeth Hall in the Southbank Centre on Friday 21st of July. This is a hybrid event – both in-person and live-streamed – with information available here:
https://www.southbankcentre.co.uk/whats-on/literature-poetry/ginkgo-prize-ecopoetry-shortlist-readings
https://www.southbankcentre.co.uk/whats-on/literature-poetry/ginkgo-prize-ecopoetry-readings-live-stream
I'm pleased to see my poem 'Ammonite', originally published in The Fenland Reed, included in the elegant and eclectic new 'Animal, Vegetable, Mineral' edition of Sein und Werden, edited by Allen Ashley. The webzine can be viewed in full at the first link below, while my poem can be accessed directly at the second link:
http://www.kissthewitch.co.uk/seinundwerden/spring-summer23/index.html
http://www.kissthewitch.co.uk/seinundwerden/spring-summer23/page58.html
I will be reading at the Zoom launch event on Saturday 1st of July at 6pm. All welcome; please contact Allen for sign-up details at allenashley-writer [at] hotmail.co.uk
JUNE 2023
SOME COMPETITION NEWS…
I'm overjoyed that my poem 'Damage' has won 1st prize in the prestigious Ver Poets Open Poetry Competition 2023, judged by Julia Webb. Another of my poems, 'Prevailing Conditions', was commended:
https://verpoets.co.uk/poetry-competitions/open-competition-2023/2023-open-competiton-results/
I'm looking forward to reading at the online celebration on the afternoon of Saturday 15th July. All welcome, please contact Ver Poets to sign up:
https://verpoets.co.uk/contact-us/
Additionally, my poem 'The woman who was weather' was longlisted in the Yaffle Poetry Prize, and will be published in the competition anthology, Whirlagust IV. Many congratulations to the winners and all placed poets.
https://www.yafflepress.co.uk/competition-1
MAY 2023
I'm very pleased to see my poem 'Flourish' published in Bark & Blossom, a beautiful new edition of Green Ink Poetry, which can be ordered via this link:
https://www.amazon.co.uk/dp/B0C5BJX8YX
APRIL 2023
It is a terrific boost to have two poems longlisted in the National Poetry Competition, selected by the judges from over 17,800 poems entered. I had the additional privilege of being invited to attend the prizegiving and winners' readings at the Southbank Centre, which was a great celebration. Many thanks to the competition judges and to the Poetry Society. All of the winning poems can be read at this link, which contains the list of longlisted poets as well:
https://poetrysociety.org.uk/competitions/national-poetry-competition/
MARCH 2023
25th March
I'm greatly looking forward to working with another talented cohort of poets, rerunning 'The Grey and the Green', my urban nature poetry workshop which was oversubscribed last year. If there is sufficient interest, I may be able to run the workshop again; people are welcome to get in touch via my Contact page.
26th March (8pm, via Zoom)
I will be among the guest readers of Sue Burge's Desert Island Poets, when I will be reading and speaking about a poem that resonates with my creative practice, along with a poem of my own. More information at my Readings page.
JANUARY 2023
I'm very pleased that my poem 'Milker' has been published in the latest issue of the highly regarded Lighthouse Journal, with a focus in this edition on writers from working class backgrounds. I will be reading my poem, along with another of mine, at the online launch on Wednesday 25th of January at 7.30pm. Tickets are free, everyone welcome. Registration is via this link:
https://www.eventbrite.co.uk/e/lighthouse-25-launch-party-tickets-491665704357