2021 News
DECEMBER 2021
Friday 17th December, 7.30pm: my final reading of 2021! I'm delighted to be participating in 'Celebrating DW250: A Virtual Christmas Birthday', an online celebration of Dorothy Wordsworth and the 250th anniversary of her birth. Featuring an array of brilliant writers and artists, tickets are free and can booked via this link:
https://dw250.uk/events/
A glut of winter publications to end 2021:
My poem 'Self-portrait as dirty linen' has been published by Skirting Around magazine, in their 'Undercover Operation' edition: https://www.skirtingaround.org/

My poem 'Peripherals' has been re-published in Last Chance Filling Station, a themed edition of Sein und Werden: http://www.kissthewitch.co.uk/seinundwerden/autumn21/

My poem 'Mammatus' has been published in issue 7 of Consilience, a journal of scientific poetry, whose theme for this edition was 'energy': https://www.consilience-journal.com/issue-7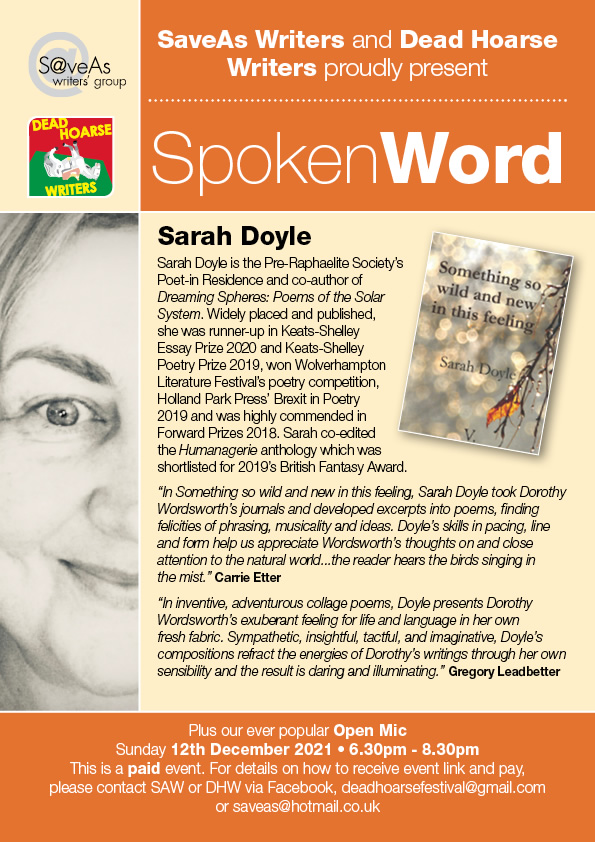 My penultimate Zoom reading of 2021 takes place on Sunday, 12th of December, at 6.30pm, when I will be speaking about Dorothy Wordsworth and my creative engagement with her journals, and reading a selection of poems from Something so wild and new in this feeling. The event is organised jointly by Save As Writers and Dead Hoarse Writers; tickets are £5/£3, and payment/joining information can be obtained by emailing either of the addresses in the attached poster. There will be also be an open mic session for anyone who'd like to read a poem on the night.
NOVEMBER 2021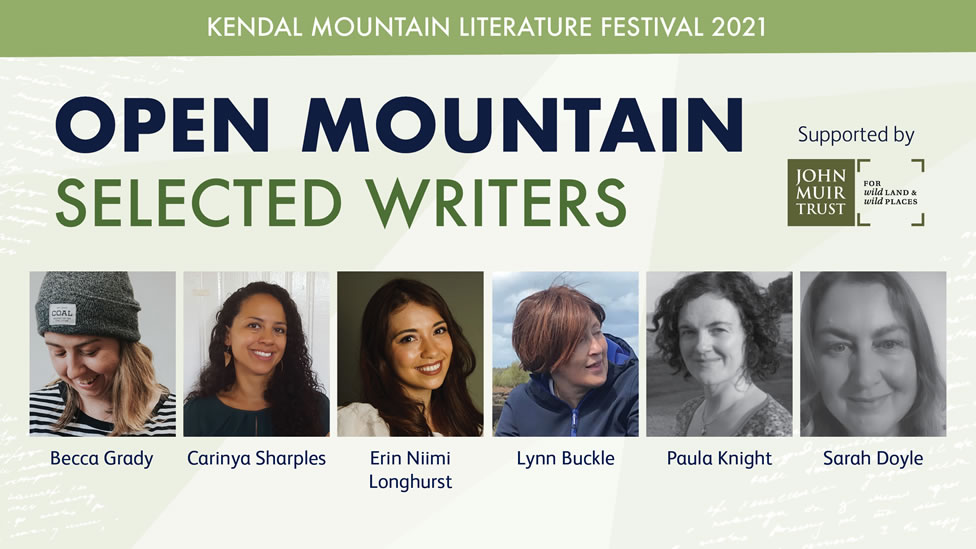 I was delighted to learn that my presentation proposal was selected for inclusion in the Kendal Mountain Literature Festival event, 'Open Mountain: Unlocking the Landscape'. It was a great privilege to speak at this event, alongside five extraordinary writers. The event was recorded on 18th November, and will be available to view online from 21st November onwards. Registration is free, via this link.
Place, Perception and Play (Revisited) with Sarah Doyle, Vanessa Lampert, Samatar Elmi, Stephen Payne
On Thursday 4th November, at 7pm, I have the wonderful honour of reading at the launch event of this year's Poetry in Aldeburgh festival, which is once again taking place online. The entire weekend is packed full of fascinating readings and workshops, and promises a rewarding experience. Registration is available at this link:
https://www.poetryinaldeburgh.org/festival-programme
Tuesday 2nd November: 'Literature, Place, and Space'. In my capacity as a doctoral researcher within the School of English at Birmingham City University, I will be presenting at this online academic conference, speaking about places of poetry and the poetics of place, focusing on poems by Alice Oswald and Jean Sprackland. The event is free to attend, with registration available by clicking here.
OCTOBER
Many thanks to editor Helen Ivory for publishing my poem 'BLOOD CYCLE' as part of Ink, Sweat & Tears' weeklong 'choice' themed feature, inspired by the theme of this year's National Poetry Day. My poem can be read at this link, along with the work of many other fine poets:
https://inksweatandtears.co.uk/2021/10/page/3/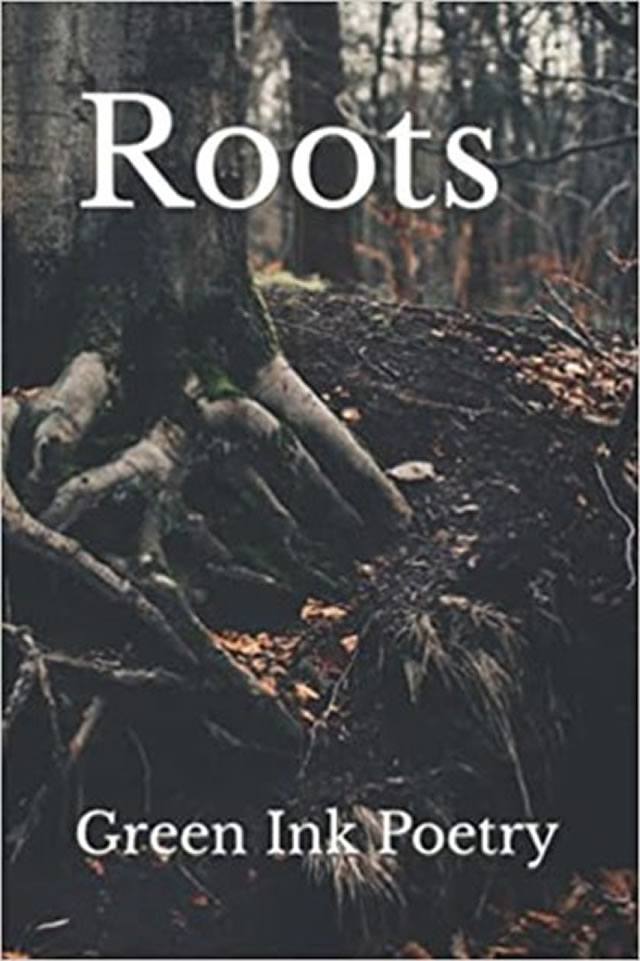 My appreciation to editor Sam Bellamy for publishing my poem 'Inheritance' in Roots, a new themed edition of Green Ink Poetry. Print copies can be purchased at https://www.greeninkpoetry.co.uk/
A web version is available here:
https://www.greeninkpoetry.co.uk/poetry-collections/roots
https://www.greeninkpoetry.co.uk/poetry-submissions-all/sarah-doyle-inheritance
I am very much looking forward to my first 'in person' event since early March 2020. I will be leading a creative writing/collage poetry workshop, inspired by my writing of Something so wild and new in this feeling, at the wonderful Poetry Pharmacy in Bishop's Castle, Shropshire, on Sunday 17th of October, 10.30am-12.30pm. This will be an inspiring and friendly workshop, suitable for all levels. The workshop costs £30, which includes lunch followed by my reading from the book. Tickets can be purchased at this link:
https://www.eventbrite.co.uk/e/sarah-doyle-something-so-wild-and-new-in-this-feeling-tickets-168962592663
If anyone would like to attend the reading only, this takes place from 1.30-2.30pm, with tickets costing £5. Tickets can be purchased at this link:
https://www.eventbrite.co.uk/e/presentation-from-sarah-doyle-something-so-wild-an-tickets-168967547483
SEPTEMBER 2021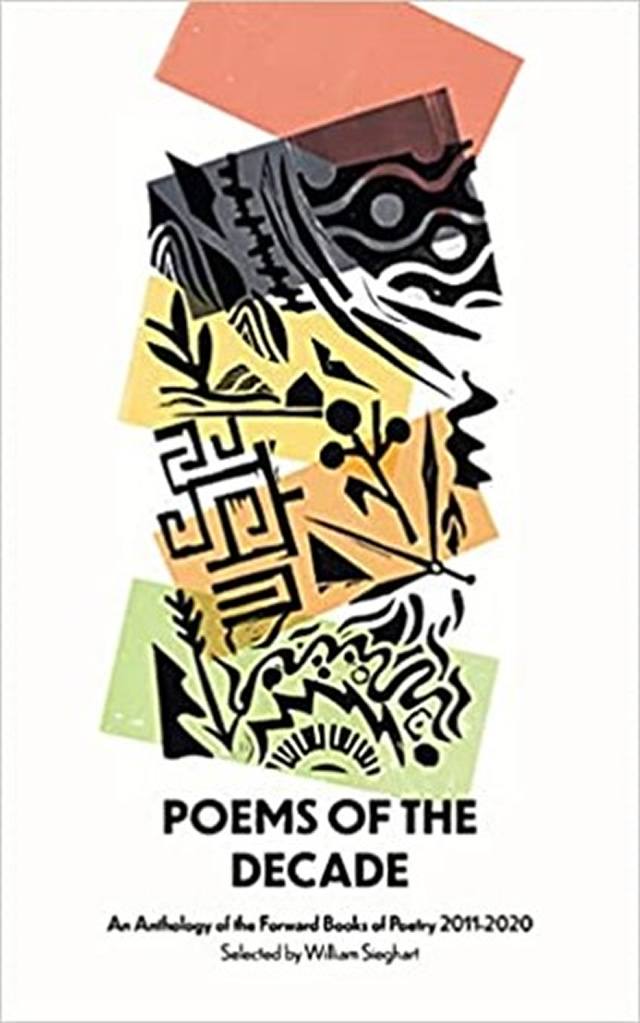 I'm thrilled that my poem 'The woman who married an alchemist' is included in Poems of the Decade 2011–2020: An Anthology of the Forward Books of Poetry 2011-2020, published by Faber & Faber. The poem was originally published in poetry journal The Fenland Reed, going on to be highly commended in the Best Single Poem Category of the Forward Prizes in 2018 and published in the Forward Book of Poetry 2019. It's a great honour to have been selected for this important new compilation, featuring so many extraordinary poets and poems.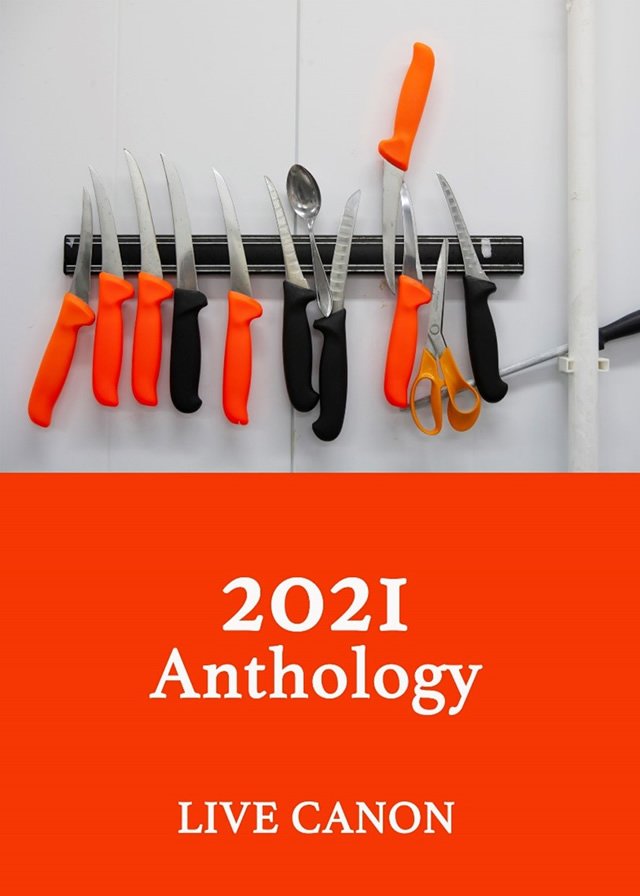 Nice news. My poem 'I have paid the price for eating snow' was longlisted in Live Canon's 2021 International Poetry Competition, and will be published in the competition anthology. The book can be ordered, and the longlist viewed, via this link:
https://www.livecanon.co.uk/competitions-and-opportunities/poetry-competition
AUGUST 2021
I'm very pleased to have won 3rd prize in the ChipLitFest Short Story Competition 2021, with my story 'Requiem for a Woolwich Canary'. The results can be viewed here:
https://www.chiplitfest.com/chiplitfest-short-story-competition-2021-the-results
My story can be read at this link:
https://www.chiplitfest.com/requiem-for-a-woolwich-canary
JULY 2021
My poems 'windfell' (a concrete/visual piece) and 'Gleams' (another Dorothy Wordsworth collage poem) have found the perfect home in issue 5 of excellent poetry and ecopoetry magazine, Finished Creatures. My thanks to editor Jan Heritage. Please see Finished Creatures' website for purchasing details for all editions of the magazine:
https://finishedcreatures.co.uk/
On Saturday 10th of July I will be reading at the Winchester Poetry Festival as part of a Words for the Wild presentation, featuring several excellent fellow poets. Tickets are free and can be booked via this link:
https://www.ticketsource.co.uk/whats-on/online/online/hampshire-poet-invites-words-for-the-wild/2021-07-10/17:00/t-gkorop
It's wonderful to receive my contributor copy of renowned academic publication The Keats-Shelley Review, containing my essay on meteorological Romantic poetry, 'Four Seasons Fill the Measure of the Year', which was a runner-up in last year's Keats-Shelley Essay Prize.
JUNE 2021
I'm running two online collage poetry workshops this month, inspired by the creative practices that went into writing Something so wild and new in this feeling. These are now fully subscribed, but I hope to repeat the sessions later in the year, and welcome enquiries in the meantime.
My poem 'Waterhouse: an encounter' – written in my role as the Pre-Raphaelite Society's Poet-in-Residence – is published in the new edition of The PRS Review. Membership information for the PRS can be viewed here:
https://www.pre-raphaelitesociety.org/about-membership.html
I'm delighted to see two more glowing reviews for Something so wild and new in this feeling this month. Firstly, Pam Thompson reviews the book with great sensitivity for London Grip, where she concludes that "Sarah Doyle's re-imaginings are astoundingly successful and I thoroughly recommend this pamphlet." The full text can be read here:
https://londongrip.co.uk/2021/06/london-grip-poetry-review-sarah-doyle/
Something so wild and new… is also reviewed very positively by Anna Avebury in Ver Poets' Newsletter. The review concludes that "The reader will find so many qualities in this unique work of poetry where, through skilful selection and imaginative organisation, Sarah Doyle has created accomplished poems of lasting charm and beauty whilst respecting throughout the integrity of the original journal entries." The newsletter also features the poems I chose when I had the honour of judging the group's Ten-Liners poetry competition earlier this year.
MAY 2021
A date for the diary: on Monday 24th of May at 8pm, I will be a virtual guest of Forest Poets, reading poems from Something so wild and new in this feeling, alongside the wonderful poet Sarah Westcott, who will be reading from her new poetry collection, Bloom. The event, billed as The Two Sarahs, will take place via Zoom. Details will be made available via social media, so do look out for Forest Poets on Twitter, @ForestPoets.
APRIL 2021
Many thanks to Greg Freeman, who interviewed me about Something so wild and new in this feeling for Write Out Loud. I'm grateful for the opportunity to consider such perceptive questions.
https://www.writeoutloud.net/public/blogentry.php?blogentryid=114011
I'm delighted that Something so wild and new in this feeling has received a couple of early reviews, both extremely positive, which can be read at the links below:
https://christopherjamespoet.wordpress.com/2021/04/08/something-so-wild-and-new-in-this-feeling-a-review-of-sarah-doyles-new-collection/
https://www.sphinxreview.co.uk/index.php/1159-sarah-doyle-something-so-wild-and-new-in-this-feeling
MARCH 2021
I'm delighted to announce the publication of my pamphlet, Something so wild and new in this feeling. Published by the renowned V. Press, this is a collection of collage poems that I've created using phrases and fragments gleaned from Dorothy Wordsworth's Journals. For more details, including purchase information and a sample poem, please visit the V. Press website here:
https://vpresspoetry.blogspot.com/p/something-so-wild-and-new-in-this.html
Something so wild and new in this feeling has the honour of being Featured Publication for March at Atrium Poetry, where further sample poems can be read:
https://atriumpoetry.com/2021/03/07/featured-publication-something-so-wild-and-new-in-this-feeling-by-sarah-doyle/
The book emerged, unexpectedly, from my PhD research, and if anyone would like to read a little about the work in this context, there's a short interview with me here, at Birmingham City University's website:
https://www.bcu.ac.uk/research/our-phds/phd-blogs/phd-student-and-prize-winning-poet-discusses-new-poetry-collection